Full-Stack PHP Program
PHP, Laravel, MySQL, JavaScript, HTML, and CSS
Graduated May 2017
William Staud
Talk is cheap. Show me the code. --Linus Torvalds
Matt Valdez
For the things we have to learn before we can do them, we learn by doing them. ~ Aristotle
John Watts
"It's not what you look at that matters, it's what you see - Henry David Thoreau
Travis Wilborn
The best luck of all is the luck you make for yourself. - Gen. Douglas MacArthur
Joshua Williams
There is only one corner of the universe you can be certain of improving, and that's your own self.
Full-Stack Java Program
Java, Spring, MySQL, JavaScript, HTML, and CSS
Graduated February 2017
Justin Armer
Think like a man of action, but act like a man of thought. --Stefan Molyneux
Nicholas Balderas
The history of the past is but one long struggle upward to equality. ~Elizabeth Cady Stanton
Brad Colton
Plan your work and work your plan. -Napolean Hill
Kenneth Curtis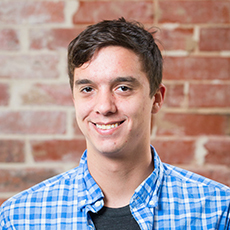 Success is how high you bounce when you hit bottom. - George S. Patton
Jesse Davila
Become a student of change. It is the only thing that will remain constant. - Anthony J. D'Angelo
Nicholas Duke
Talk is cheap. Show me the code. -Linus Torvalds
Brittany Dunne
"The most difficult thing is the decision to act: the rest is merely tenacity." Amelia Earhart
Anthony Fortney
Your focus determines your reality.
Lloyd Garrison
Start with the end in mind. ― Stephen R. Covey
Matthew Garza
"Vision is the art of seeing what is invisible to others." -Jonathan Swift
Eunice Heymann
The most damaging phrase in the language is: `It's always been done that way.' " ~Grace Hopper
Ray Linares
Be Yourself. Everyone else is already taken.
Austin Meeker
The best thing about a boolean is even if you are wrong, your only off by a bit.
Nicholas Ring