Full-Stack PHP Program
PHP, Laravel, MySQL, JavaScript, HTML, and CSS
Graduated November 2016
Jessica Sattler
"True humility is not thinking less of yourself; it is thinking of yourself less." ― C.S. Lewis
Mittsy Tidwell
Hector Treviño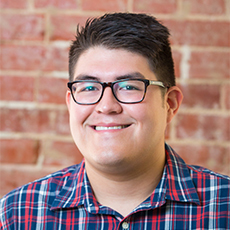 Michael Truong
Full-Stack PHP Program
PHP, Laravel, MySQL, JavaScript, HTML, and CSS
Graduated June 2016
Mauro Cabrales
We're still in the first minutes of the first day of the Internet revolution.
Will Campbell
Learn something new and level up!
Melissa Canales
You should put that on a t-shirt!
James Canning
Bitedge: helping you win bitcoin!
Kristen Cates
I dream it, I work hard, I grind 'til I own it
Daniel Curran
Start by doing what's necessary; then do what's possible; and suddenly you are doing the impossible.
Francisco Escobedo
"Wisdom is knowing what to do next, skill is knowing how to do it, and virtue is doing it"
Alex Garrido
Don't Panic --Douglas Adams
Micah Johnson
Alan Lauritzen
The secret of getting ahead is getting started.
Edric Martinez
One man's constant is another man's variable -- Alan Perlis